Online casino
Biggest and the Best Casino in Prague, Czech Republic
Looking for a casino at Prague? We recommend these excellent land-based casinos both in the centre and outside of the centre of Prague.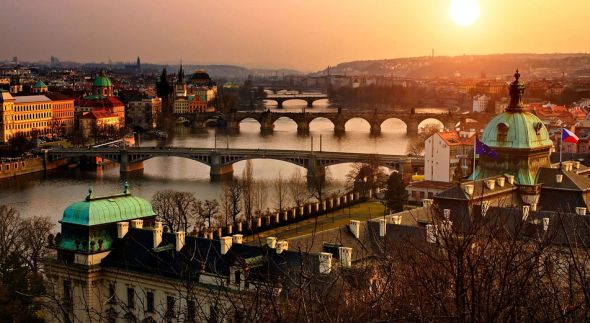 Photo: Pixabay
Prague Casino Experience: 9,5/10
Environment: great and friendly
Game Offer: slots, roulette and blackjack tables, poker
Prague Casino Guide
Prague hosts the most beautiful casinos in the world. Check out the best casinos that you can find in Prague and therefore in the Czech Republic. Every one of the casinos offers plenty of slot machines, but also a pleasant environment that will appeal to all players. Want to play from home or the hotel? Try out this licensed online casino.
Casinos are a great place to relax, but also to have fun with friends or even to have an interesting date. To visit the casino in the Czech Republic, you must be over 18 years of age and take your ID with you and get ready for a mandatory registration in every casino. Registration does not take long, but you need to be ready.
Casino Near Prague Airport
The Casino near Prague Airport is right on your way to the city. The casino is called Happy Day is rather a classic casino with slot machines and roulette. The Casino is located at at address K letišti 1019/6, Prague, Ruzyně, 16100, but it opens at 22:00. If you are looking for an open casino even during the day, you may want to visit the center of Prague, which offers a variety of non-stop casinos.
Prague Casino Old Town
If you are looking for a nice and tastefully furnished casino, sure head to the city center. There are the best casinos there that will not disappoint you. Of course, excellent venues are located outside the city center or on the outskirts of the city, but it's much easier to find a great casino in the city center.
In our overview of the best casinos in Prague, you will find both a casino in and outside of the city center, so you can go play wherever you are.
Ambassador Casino Prague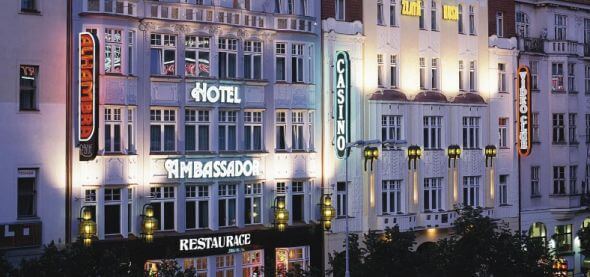 Photo: Casino Ambassador
Casino Ambassador is located at the bottom of Wenceslas Square and is one of the most famous casinos in Prague. You can find both classic slot machines and live games like roulette or blackjack. The Ambassador is also a great place for poker players.
Address: Václavské náměstí 5-7, 110 00 Praha 1
Contact: +420 224 193 681

Do you prefer online casinos with numerous no deposit bonuses? Click on one of the banners below
Casino Atrium at Hilton Hotel Prague
Casino Atrium is one of the most luxurious casinos in Prague. Everything is at a totally professional level, and you'll find both live roulette or blackjack at the casino and a variety of slot machines. The cash game is available for poker players. Casino Atrium opens at 17:00.
Address: Pobřežní 1, 186 00 Florenc
Contact: +420 224 810 988
Banco Casino Prague
Banco Casino Praha is located close to Wenceslas Square, and it is mainly visited by baccarat or Ultimate Holdem players. Of course, there are a selection of slot machines and electronic roulette tables ready for you.
Address: Na Příkopě 959/27, 110 00 Staré Město
Contact: +420 221 967 371
Showdown Casino Prague
Showdown Casino is located at the top of Wenceslas Square. It is divided into two parts. One part is purely slot machines and roulette, the lower floor is a zone where players can play poker tournaments and cash games every day.
Address: Václavské náměstí 808/66, 110 00
Contact: +420 739 880 066
Forbes Casino Win Prague
Forbes Casino Win offers a pleasant and luxurious interior, a variety of games for fans of unusual poker formats. The casino is in a slightly different part of the center, but it is about 15 minutes from Wenceslas Square.
Address: Revoluční 1081/4, 110 00
Contact: +420 792 526 567
Rebuy Stars Casino Savarin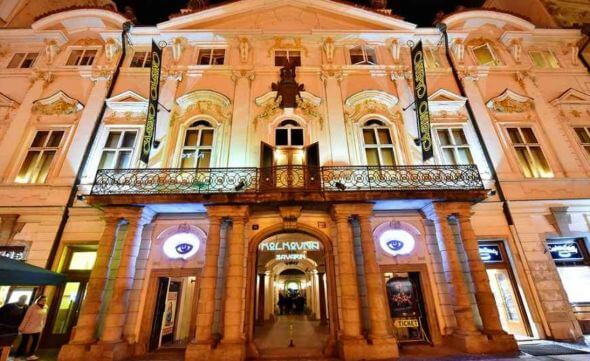 Photo: Rebuy Stars Casino Savarin
Rebuy Stars Casino Savarin is located at the bottom of Wenceslas Square. It is the perfect place for both poker player and slot machine players alike. You can find dozens of slot machines or play daily poker tournaments and cash game.
Address: Na Příkopě 10, Praha 1
Contact:+420 602 530 299
Rebuy Stars Casino Luka
Rebuy Stars Casino Luka is located directly at the Metro B station Luka and offers one of the most profound casino experience you can find in all of Prague. Despite the location being outside of the city centre, we still recommend that you give this casino a shot.
Address: Mukařovského 2590/2, Praha 5
Contact: +420 739 329 565
Vegas Casino Prague
The Vegas Casino is located in the 5-star Court Hotel. It is a smaller casino with forty slot machines, two electronic roulettes and four tables of live games. The casino is very pleasant and you will feel very comfortable there.
Address: Hotel KINGS COURT, U Obecního domu 3, 110 00
Contact: 224 267 177
Casino Admiral Prague
Casino Admiral in Prague runs a variety of casinos. All are characterized by a pleasant environment and plenty of great next-generation games.
Address: Národní 984/15, 110 00
Contact: +420 224 221 158
Marriott Casino Viva Prague
Viva Casino is located in the heart of Prague and you can enjoy mainly great games and a great game experience. The Casino is located in the Marriott Hotel
Address: V Celnici 10, 110 00
Contact: +420 221 033 401
Closed Down Casinos
You may be looking for these casinos, but unfortunately, they were closed down for various reasons:
Card Casino Prague
The casino was located in Prague, where gambling was prohibited. Card Casino Prague is therefore closed
King's Casino at Corinthia Hotel
King's Casino Praha is no longer working. Try to visit the renowned King's Casino Rozvadov.
King's Casino Rozvadov
King's Casino in Rozvadov is the most famous casino in all of Europe. It is located to the verz west of the Czech Republic, but it offers the best poker tournaments such as the WSOP, regular cash game, dozens of slot machines, roulette, blackjack, craps free food and so on. It is no accident that so many famous players regularly visit and enjoy the games. If you don't mind traveling from Prague a bit,visit the King's casino Rozvadov and it will be a great pleasure for you.
Address: Rozvadov 7, Rozvadov, 348 06
Phone: +420 730 888 888
E-mail: guest.relation@kingscasino.eu
Casino Go4Games Olomouc Hodolany
Casino Go4Games Olomouc Hodolany offers a first class experience for fans of classic casino games, such as slot machines, roulette, blackjack and more. In addition, daily tournaments and cash games are available for poker lovers. The entire casino is perfectly decorated and you will enjoy the best entertainment and adrenaline of the winnings. If you are planning to make a trip to Moravia for a good wine, be sure to stop at Go4Games Olomouc.
Address: Ostravská 975/1, Olomouc (Resort Hodolany)
Phone: 585314067, klapka 44
Floorman: floorman@go4games.cz
Hrajte zodpovědně a pro zábavu! Zákaz účasti osob mladších 18 let na hazardní hře. Ministerstvo financí varuje: Účastí na hazardní hře může vzniknout závislost! Využití bonusů je podmíněno registrací u provozovatele - více zde.
VLOŽ EMAIL A ZÍSKEJ NEJVYŠŠÍ BONUS
DALŠÍ ZAJÍMAVOSTI NEJEN ZE SVĚTA ONLINE HAZARDNÍCH HER
| | |
| --- | --- |
| Sportovní akce a události | Mohlo by vás také zajímat |